Custom Belly Piercing Shop in St Louis
Steel and Ink Studio, custom belly piercing shop in St. Louis will give you the look you want. We think you should be in charge when it comes to designing your personal look. Our licensed, certified piercers are ready to help make that happen.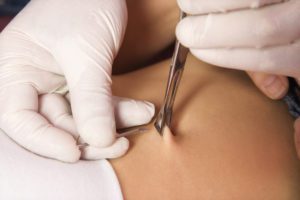 Give Steel and Ink Studio a call today at: (314) 892-2828
Create your own piercing idea and let Steel and Ink Studio help you bring it to life.
We work hard everyday to be sure our customers are pleased. Therefore, we get a lot of return business. Our professional piercers, licensed/certified are available six days each week, so give us a call or stop by our shop.A huge selection of titanium, stainless steel and gold jewelry is available. We only carry top quality, yet affordable body jewelry. You'll want to be sure to take a look before you decide on your choice.
We have Briotech Piercing Aftercare products to be sure your body modification heals exactly as you wish. It's always very important to understand the aftercare involved with any modification. Steel and Ink Studio gives complete instructions for every customer.
Your custom belly piercing shop in St. Louis.
Here are some of our available services:
Belly piercings

Nose piercings

Facial piercings

Naval piercings

Tongue piercings

Double helixes
Triple helixes

Dermal implants

Subdermal implants

Suspensions

Dental gems