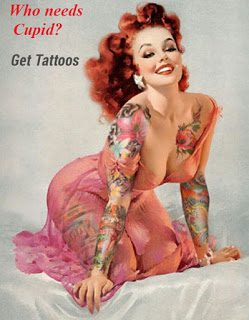 Happy Valentine's Day 2016 St. Louis! We are celebrating at Steel and Ink Tattoo Studio by offering all of our previous and new clients 10% OFF on our Gift Cards. Sale ends Monday February 15th, 2016. So bring your Valentine to Steel and Ink for a gift that they will have forever. If she likes roses, come get her a beautiful rose that will never wilt or die. She will know that you love her forever.
We aren't stopping there! Maybe your partner wants a body piercing? We have you covered! Till March we are offering all piercings at $10 OFF! This means you can get any body piercing that you desire for $10 Off the regular price. All of our piercings at Steel & Ink Tattoos and Piercings Studio include your starter jewelry (made only of surgical stainless steel, titanium, or gold), piercing and aftercare( always the best on the market) to heal your new piercing.
So grab your valentine and come get tattooed or pierced this Valentine's Day!