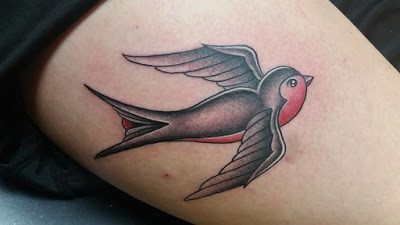 So, now you've made the decision to get tattooed. Here are 4 things you should know that will help you along the process of getting that tattoo you have been wanting.
Here at Steel and Ink Tattoo and Piercing Studio of St. Louis, Mo, we try to give our clients an experience they will remember!  We also recommend that you come visit us at the studio ahead of time and meet your tattoo artist at 3565 Ritz Center, St. Louis, MO, 63125.
                                                     1. A Tattoo is Forever
Tattooing is the act of inserting pigment into punctures in the skin.This is permanent! Not temporary it cannot be erased without laser surgery.
Tattoo artists are professionals who dedicate their time, skill, and effort to give you a solid, clean and lasting tattoo. The best ones do have an hourly charge of $100.00 an hour or more, but it is worth the work, so be ready to save and spend for your tattoo. Don't forget to tip your tattoo artist.
                                                       3. Tattoos HURT
Yes, it hurts! For some people it hurts more than others. One thing's for sure, IT DOES HURT.Its a good idea to be ready for your tattoo physically and mentally. We recommend to get a good meal in before the tattoo.
  Tattoo collecting can be one of the greatest joys in your life and mark the best times, so have fun on this journey!