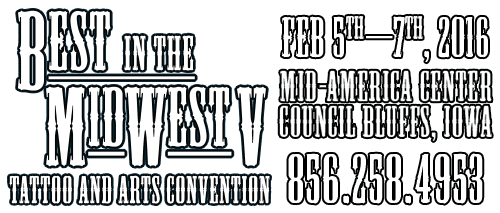 This weekend February 5th through the 7th, Shaun Medina and Jacob DeNoyer of
Steel and Ink Tattoo Studio, St.Louis, MO will be tattooing for 3 days at the
"Best in the MidWest"
5th annual Tattoo Convention, located in the
Mid America Center, Council Bluffs , IA . Show starts at 2 pm on Friday. Jacob and Shaun will be tattooing, selling original artwork,prints and T-shirts, so be sure to stop by the Steel and Ink tattoo booth and watch or get a custom tattoo!
Come get tattooed, see many different styles of live tattooing, stage acts,sideshows and tattoo contests all weekend. For a full schedule visit http://shaneoneillproductions.com/
Here in St. Louis the doors of Steel and Ink Tattoo & Body Piercing Studio, located at 3565 Ritz Ctr.,St. Louis, MO 63125 will still be open! Fino will be available all weekend for body piercings. Brandi Brown and Jay Johnson will also be available to tattoo you!
Don't forget All Piercings at Steel and Ink Studio are $10 OFF for the whole month of February, to get us geared up for "Spring Break 2016!" This makes your piercing only $35.00 for your starter jewelry, piercing and quality aftercare to heal your new body modification. Any question please call 314-892-2828.