For the Entire month of July $10.00 Off All Piercings
at Steel and Ink Tattoo and Piercing Studio
3565 Ritz Center, St Louis, MO
It's summertime in St. Louis and as you would expect Steel and Ink Tattoo and Piercing Studio has the ultimate savings on your next Body Piercing. Don't worry Body Jewelry enthusiasts and fashionistas we didn't leave you out! There is no better way to compliment your summer body than spotting that eye-popping and truly trendy jewelry piece. We have been across America doing research and learning about the highest quality and hottest styles and trends to bring back to St. Louis.
According to our extensive research on trending Body Jewelry and Piercings we have found three piercings that is guaranteed to turn heads this summer. The Earlobe, Tragus and Daith are all the rave this year! Pro-tip, in combination, these three piercings go hand in hand and perfectly compliment each other. That being said, the Daith piercing has the most momentum now. Apart from the Daith being trendy new studies have enlightened us that not only is this piercing beautiful but has shown to ease the severity of migraines, making it the first official pain reliever that simultaneously beautifies you! for the individual that has a poorly placed ear piercing. Incorporating one or more strategically placed earlobe piercing in the form of a constellation is a sure fire way to breathe vibrancy and is still very popular and fashionable.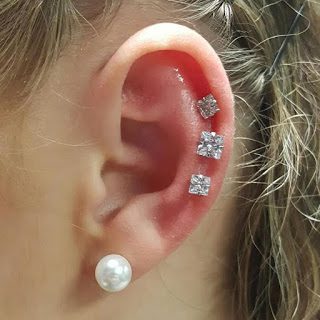 One piercing trend making it's comeback after a hiatus in 2016 and 2017 is the navel or belly button piercing. Despite the growing concern that this piercing is only compatible for the younger generation. we are here to say that the only time that you are to old for a navel piercing is after your death. So there is your confirmation: summertime is the right time to get your belly button piercing.
A great piercing that is on the rise is the smiley piercing. The smiley piercing goes through the thin fold of the skin (frenulum) just underneath the inner upper and lower lip. A-list celebs like Keke Palmer rocking this piercing it is officially on the rise to set it's prominence this summer.
This oldie but goodie that is climbing the ladder of popularity are nipple piercings. Also showcasing this piercing is celebrity superstar model Bella Hadid. This piercing done in a professional setting with correct placement brings just the right touch of sexiness to the body. A nipple piercing can be your secret or a bold fashion statement.
If you are already pierced and are just looking for a way to spice up your body piercing you can always stop by Steel and Ink Studio at 3565 Ritz Center St. Louis, MO 63125 and see all the newest styles of body jewelry in 14 Karat Gold, Titanium, or 316L Surgical Stainless Steel that can be paired with an array of colorful or clear cubic zirconia, synthetic opals and semi-precious stones in a prong or bezel set to accentuate your summer style.