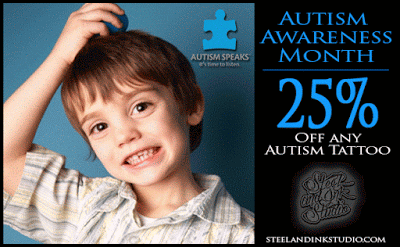 April is Autism Awareness Month!
Nearly a quarter century ago, the Autism Society launched a nationwide effort to promote autism awareness, inclusion and self-determination for all, and assure that each person with ASD is provided the opportunity to achieve the highest possible quality of life.
What can I do?
Tattoo the Puzzle! The Autism Awareness Puzzle Ribbon is the most recognized symbol of the autism community in the world. Autism prevalence is now one in every 68 children in America.Show your support for people with autism by wearing the Autism Awareness Puzzle Ribbon – as a pin on your shirt,a tattoo, a magnet on your car, a badge on your blog, or even your Facebook profile picture – and educate folks on the potential of people with autism! To learn more about the Autism Awareness Ribbon, click here. To purchase the Autism Awareness Puzzle Ribbon for your shirt, car, locker or refrigerator, click here.
Steel and Ink Tattoo Studio would like to show our support for Autism here in St.Louis,MO. The entire month of April we will be giving every Autism tattoo a 25% OFF discount to help raise autism awareness. So come get tattooed and increase public awareness about autism and the day-to-day issues faced by individuals with ASD and their families.