Recently, I saw a post of a picture of a tattoo collectors "Tattoo Fail" on social media, which was preceded with all kinds of jokes, laughter and I think even a meme or two. Now all of a sudden, this guy is an internet sensation thanks to his cruel friend that shared the photo and the misspelled phrase on his calf! While some of the comments were funny, I couldn't help but feel for the guy and think about what he was going to do to fix this permanent "Tattoo Fail". Then my thoughts and heart wondered about some of the double mastectomy cancer survivors that are getting 3-D Nipple and Areola realistic tattoos. Some of these women are getting tattooed by Surgeons that are not familiar with tattooing, while other women are trusting tattoo artist, who can only see dollar signs and are totally not aware of the technique and skill required for success. Now I get that everyone has a bad day and tattoo artists' are NO exception to that rule. I just feel like that there are some steps that we can take to ensure a good tattoo.
While now your in a rush to go get your tattoo, or to have it removed, repaired or altered , you should totally take a moment to get your bearings and research properly the artist that you are going to approach to do your procedure. Clients that take their time choosing their artist to either create, cover-up or remove their tattoos have a much better experience and a successful result.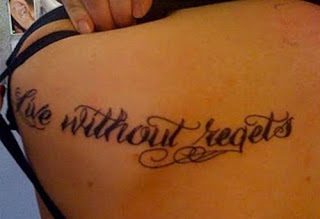 Here is my best advice I have for all the tattoo enthusiast looking for the perfect tattoo:
Spellcheck thoroughly before putting on your stencil. The tattoo artist could be focused on the overall design and all of the other aspects of tattooing a bleeding canvas.
Research your artist and the studio to ensure their level of skill is appropriate for the procedure
Know that the dates that you are permanently tattooing on your body are correct
Check and make sure that your artist and studio is licensed and insured
AVOID the "Kitchen Magician"
If you follow these simple tips, you will have " no regerts" when you finally get your tattoo!
Disclaimer: None of these tattoos were done at Steel and Ink Studio. I simply googled "Tattoo Fails".