Tips To Care For Your Tattoos
 So you have found the right tattoo artist for your new tattoo, sat through the pain, and now have the tattoo of your dreams. What's next? Time to ensure that your new tattoo stays beautiful!
Caring for your new tattoo is your responsibility from the very moment that you get out of your tattoo artist chair, until you die.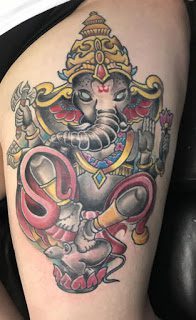 Your tattoo's quality and lifespan is imperative to the way you heal out your tattoo. Just look at the tattoo by Jay Johnson of Steel and Ink Studio: Tattoos and Piercings in St Louis, Mo.
Immediate Tattoo Aftercare:
Your Tattoo Artist will most likely have advice on how to care for their particular style of tattooing technique. Listen to your artist first and foremost and if there are issues with healing consult your tattoo artist first.
Leave your tattoo covering on your tattoo for at least the first hour after being tattooed. Your artist should instruct you on how long to keep your bandage on the tattoo depending on the type of bandage.You don't want to expose it too early or ruin your clothes with blood and ink!
Once you have removed your bandage, make sure to wash your hands with a liquid non-scented antibacterial soap (Dial soap Gold is great). This keeps your tattoo clean and helps you avoid potential infection.
After washing your tattoo we suggest letting it air dry then applying a small amount of tattoo aftercare ( Redemption Tattoo Aftercare is great, we think). I cannot caution enough to USE SPARINGLY a thin layer is better than drowning the tattoo and will help you heal faster.
After the first couple of days using the Redemption (tattoo aftercare) you can switch to a non scented water based lotion to keep your tattoo from drying out during the healing process.
During the first couple weeks of healing it is important to keep tight clothes off of your fresh tattoo to avoid losing ink and scabbing. If you do develop scabs Do Not Pick. or soak your tattoo in water.
With summer approaching; skin, tattoos and piercings are in our vision everywhere. Summer is also the time of the year to catch all your favorite artist at your local tattoo conventions. Steel and Ink Tattoo and Piercing Studio will be attending Kansas City's Villain  Arts Tattoo Convention May 19th – 21st, 2017. This tattoo convention is by far the best in the area,. Join us at the Kansas City Tattoo Convention or come by the studio and get tattooed!