Deals on New Arrivals of Body Jewelry at
Steel & Ink Studio STL, MO
10% OFF ALL Body Jewelry in August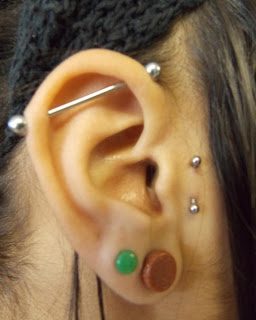 With back to school coming up and a high demand of new piercing trends, Steel and Ink Tattoo and Body Piercing Studio in South County, St Louis, MO, tries to keep our studio stocked with the newest style of quality body jewelry. Our collection is a variety of surgical stainless steel or titanium body jewelry starting from our new Five Mixed colored Crystals Centered 100% Surgical Steel Septum Clickers to the new bezel set opal stud earrings.
You can shop our large selection of dangle belly button rings adding to your funky style so you can enjoy a day at the beach or an outside activity before the end of summer! And don't forget about the large assortment of Captive Bead rings in all different shapes, colors and styles for just about any piercing you have. If your not into rings, we also carry a variety of barbells in size and color of surgical stainless steel or titanium.
If your looking for gold to add to your collection of fine body jewelry, we also order gold for our clients at the end of the month, you can get your orders in for August!