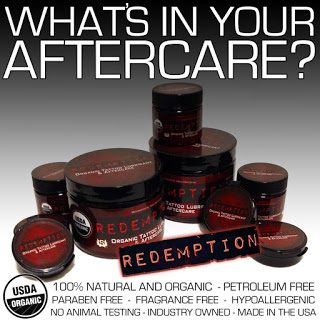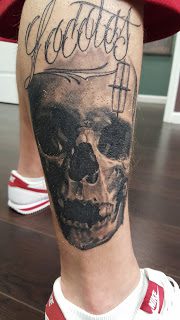 Every tattoo from Steel & Ink Tattoo and Piercing Studio located in South County,St. Louis, MO includes redemption aftercare to help you heal your new tattoo. Doesn't matter if your new tattoo is realistic,traditional,new skool,black and grey or color we encourage you to use redemption aftercare.
The first and only USDA certified petroleum replacement developed specifically for tattoo artists and collectors. Redemption tattoo aftercare has quickly become the industry standard! It is a lubricant barrier and aftercare all in one. Redemption tattoo aftercare looks and feels like petroleum based products, but is 100% NATURAL and ORGANIC! There is no animal testing and it is for use DURING and AFTER your tattoo.
Next time you are wanting a new tattoo come to Steel & Ink Tattoo and Piercing Studio at  3565 Ritz Center. St.Louis,MO,63125 to get a free tattoo consultation and find out more information on how to properly care for your next tattoo.